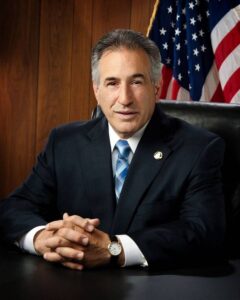 Having lived in Des Plaines for over 25 years, State Representative Marty Moylan has always been involved in making the 55th District a strong and vibrant community centered on working class family values. Moylan was elected to serve the Illinois Legislature in 2012. Prior, Representative Moylan served as the Mayor of Des Plaines from 2009-2012.
Representative Marty Moylan learned the importance of leadership and service at an early age. As a result of his father's premature passing, Marty – the oldest of 13 children – had his leadership abilities put to the test while helping his mother raise his 12 younger siblings during challenging times. It was through this early experience that Moylan learned the importance of integrity, hard work, living within your means and service.
Moylan attended St. Angela's grammar school, graduated from St. Philips High School, and attended the University of Illinois. While growing up, Moylan was a member of the North Austin Boys Club where he participated in football, baseball, and boxing.
Representative Moylan has more than 40 years of experience in the construction industry, specializing in the electrical field. As the former electrical inspector and Deputy Director of the Des Plaines Building Department, Moylan helped transform the department into a user-friendly agency. Moylan served as a Business Representative for IBEW Union Local 134 – retiring with great distinction in 2012.
Moylan is passionate in solving the community's most pressing challenges while creating opportunities in making the 55th District a world class area.
As State Representative, Moylan works tirelessly on issues affecting the families of the 55th District. Moylan currently serves on the Cities & Villages, Economic Development, Transportation: Regulations &Roads and Transportation: Vehicles & Safety Committees.
From public safety policies and economic development initiatives to quality of life issues and government reform, Moylan's leadership has made a difference for the resident of the 55th District. Moylan actually rolls his sleeves up and gets the job done for the community.
Representative Marty Moylan is married to Lisa and is the proud father of Colt — who graduated from Maine West Township High School and is following in his father's footsteps as an apprentice electrician.